We Specialize in a Range of Cardiology Services
Below are just some of the cardiology areas that we specialize in. Included is Nuclear Cardiology, Echocardiography, Treadmill Stress Test, Holter Monitor, and Pacemakers. Please contact our office for additional services and information. You may click the quick links below for the various types of services or continue reading down this page.
Clinical Services
Electrophysiology
Office Consultations
Remote Patient Monitoring
Second Opinions (review of medical records)
Interventional Services
Periphral Angiograms
Carotid Angiograms
Peripheral Angioplasty
Venous Ablations and Sclerotherapy
Electrophysiology Services
Device follow-up clinic
Implantable Loop Recorders (ILR)
Clinical Services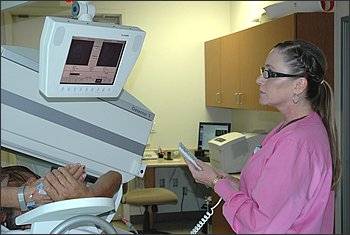 Nuclear Myocardial Perfusion Scan
A cardiac (heart) nuclear study is a test that uses a small dose of radioactive solution to track blood flow to the heart muscle, and to evaluate heart function.
We offer additional information on Nuclear Cardiology here.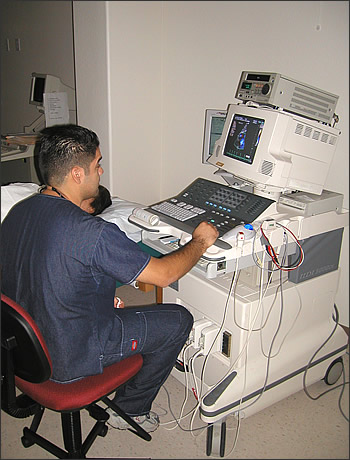 Echocardiography
An echocardiogram (echo) is a type of ultrasound examination that uses high-pitched sound waves sent through a device called a transducer to produce an image of the heart and sometimes the aorta.
An echocardiogram measures how well the heart is working by evaluating blood flow, heart valves, and heart size, thickness, shape, and muscle movement.
To see an Echocardiogram video click here.
Or, you may download an Adobe Acrobat (PDF) document with Echocardiogram information (below).


Echocardiogram information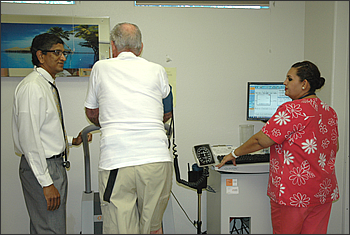 Treadmill Stress Test
Stress echocardiogram, in which the echocardiogram is done before and after the heart is stressed by exercise or medicine.
For more information on Treadmill Stress Tests, you can view videos on Adenosine Stress Test and Stress Echocardiogram by clicking these links.
Or, you may download an Adobe Acrobat (PDF) document with Treadmill Stress Test information (below).

Treadmill Stress Test information

Patient Procedure Preparation Information (in English and Spanish)
Interventional Services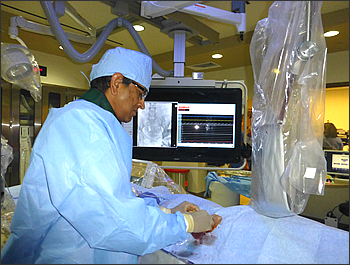 Cardiac Catheterization
Cardiac catheterization is a medical procedure we perform to diagnose and treat certain heart conditions.
A long, thin, flexible tube called a catheter is put into a blood vessel in your arm, groin (upper thigh), or neck and threaded to your heart. Through the catheter, your doctor can perform diagnostic tests and treatments on your heart.
We have additional information on Cardiac catheterization here.